Web Ripper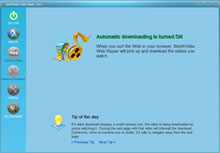 Best4Video Web Ripper is an all-in-one solution for capturing, downloading, and converting video from a vast number of video sharing websites. This potent web video downloader provides you with the easiest and the most convenient possible way to save almost any online video to your computer. Best4Video Web Ripper is extremely easy to use: all you need to do is to launch the program, and it will automatically download all videos as soon as you open them in your browser.

With this powerful software you can download several videos simultaneously, and even if you close the browser with the video, Best4Video Web Ripper will continue downloading it. In addition, you also can convert your downloaded videos to other formats, such as AVI, MP4, or WMV, and enjoy them on your favorite devices. Both downloading and conversion processes are performed with high speed and perfect quality in order to provide you with the best possible results.
Best4Video Web Ripper key features:

Multifunctional tool for capturing, downloading, and converting of web video.
Support of most of the popular streaming and file formats:

Flash Video (HTTP and RTMP)
Windows Media (HTTP, MMS and RTSP)
Real Audio and Real Video (HTTP and RTSP)
MPEG
QuickTime
Streaming MP3 (Shoutcast)

High quality: Best4Video Web Ripper preserves the original quality of compressed and HD online video while downloading it to your computer.
User friendly software: provides the easiest and the most convenient way to save online videos, as they are being downloaded automatically as you watch them.
Advanced features, including turbo capturing, automatic download, capturing videos without commercials, advanced video ripping, and many others.
Thanks to Best4Video Web Ripper you no longer need to be bound to you PC with internet connection to watch your favorite online videos, as you will be able to save them, convert to a suitable format, and enjoy on any compatible device.