Video Converter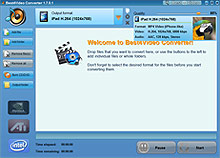 Best4Video Converter offers simple, fast, and reliable way to convert any video files. This powerful conversion software supports wide range of popular video file formats, including FLV, AVI, WMV, MKV, MP4, TiVo, etc. and provides fast conversion speed and perfect output quality. With the help of Best4Video Converter you will effortlessly convert your favorite movies for any popular device, such as iPad, iPod, iPhone, PSP, iRiver, Zune, Archos, and many others, as the program has a number of respective ready to use conversion profiles.

Best4Video Converter is a user friendly software with clear and convenient interface which makes it extremely easy to use. All conversions of video files are performed with just a couple of mouse clicks, without a necessity to make any additional configurations — all you need to do is to choose one of the built-in conversion profiles depending on your own preference and the device you have, and Best4Video Converter will do its best to let you enjoy your favorite videos whenever and wherever you want.

Best4Video Converter main features:
User friendly software: easy to install and convenient to use. Any kind of video conversions are performed effortlessly with a couple of mouse clicks.
Handy user interface: availability of a number of built-in conversion profiles for all popular devices – iPod, iPhone, iPad, PSP, Zune, Mobile phones, Smart phones, Archos, Creative Zen, iRiver, Google Android, Palm, Blackberry, Sony Walkman, SanDisk Sansa. No need to make any additional configurations – all profiles are ready to use.
Support of all popular video file formats: FLV, AVI, VOB, MPG, MPEG, MPE, ASF, RM, WMV, OGM, MKV, MP4, SWF, TiVo, etc.
Customizable output settings for achieving best results: you can choose output format and quality according to you own needs and preferences. The changes that you make are reflected in the image preview which gives the visual demonstration of the way the converted files will look on your device.
Very fast conversion: Best4Video Converter significantly saves your time, providing maximum possible conversion speed.
Ideal quality: all video files are converted with the best possible quality for your device.
Batch conversion mode providing the possibility to convert large video collections quickly and easily.
Best4Video Converter was created specifically to make video conversions accessible, fast, convenient, and easily performed. There is to bother yourself further with the problems of incompatibility between your media files and your favorite devices — with the help of Best4Video Converter you will solve those problems with just a couple of mouse clicks and enjoy your favorite videos anytime and anywhere.