Media Player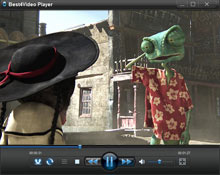 Best4Video Media Player
is a versatile software created for the convenient playback of both video and audio files. It gives you a possibility to enjoy your favorite music and movies effortlessly.
Best4Video Media Player
has clear and handy interface, providing a straightforward access to all necessary functions, and is very easy to use. This media player supports popular audio and video file formats, allowing a flawless playback of your favorite media files.
Best4Video Media Player main features:

Key Benefits:

Support of popular audio and video formats
Full-screen mode
User friendly interface
Extremely easy to use
Best4Video Media Player is available absolutely free, so you can download it and enjoy all its useful features straight away!