Google Android Converter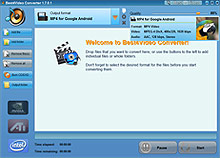 Best4Video Google Android Converter is actually an efficient conversion instrument that offers straightforward, quick, and trusted method to convert any kind of video or audio files for your Google Android. This product supports wide selection of widely used video file formats, including FLV, AVI, WMV, MKV, MP4, TiVo, etc. and provides quick conversion speed in addition to perfect output quality. With the help of Best4Video Google Android Converter you will very easily convert your selected videos or audios to your Google Android gadget.

Best4Video Google Android Converter is an intuitive tool using distinct and handy interface making it very easy and convenient to use. Both video and audio conversions can be carried out with just a couple of clicks, without a need for making any supplemental adjustments — all you have to do is to select built-in Google Android conversion profile, and Best4Video Google Android Converter will do its best to assist you enjoy your best songs and videos on your preferred gadget.

Best4Video Google Android Converter major characteristics:
User-friendly program: easy to install and easy to use. All sorts of movie and music conversions are executed very easily using a couple of mouse clicks.
Convenient interface: to convert any video to your Google Android, just select MP4 for Google Android built-in conversion profile.
Support of all popular file formats:

Video: FLV, AVI, VOB, MPG, MPEG, MPE, ASF, RM, WMV, OGM, MKV, MP4, SWF, TiVo, etc.
Audio: MP3, OGG, AC3, FLAC, WAV, WMA, M2A, AMR, etc.

Variable output settings for acquiring best results: you may select output format and quality according to you own requirements and preferences. The changes that you make are reflected in the image preview which gives the visual display of the way the converted files will appear on your Google Android.
Very fast conversion: Best4Video Google Android Converter significantly saves your time and efforts, providing maximum achievable conversion speed.
Great quality: all video and audio files are converted with the best quality your Google Android may handle.
Batch conversion mode delivering the ability to convert big music and movie collections quickly.
Best4Video Google Android Converter was made specially to make movie and audio conversions for your Google Android accessible, speedy, and easily done. No longer you have to bother yourself with the complications of incompatibility between your media files and your favored device — thanks to Best4Video Google Android Converter you'll resolve those problems with just a few clicks and enjoy your preferred audio and videos on your Google Android.