Smart Phone Converter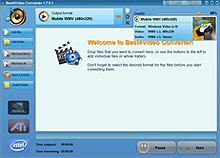 Best4Video Smart Phone Converter can be described as efficient conversion tool which provides quick, efficient, and trustworthy way to convert just about any video or audio files to your smart phone. This tool supports wide variety of video file formats, including FLV, AVI, WMV, MKV, MP4, TiVo, etc. and offers fast conversion speed in addition to perfect output quality. With the help of Best4Video Smart Phone Converter you can very easily convert your selected movies or music to your smart phone regardless of its model.

Best4Video Smart Phone Converter is a user-friendly application using clear and handy user interface which makes it easy and convenient to apply. Both video and audio conversions can be performed with just a couple of clicks, without a need to make any supplemental configurations — just about all you should do is to select one of several built-in Smart phones conversion profiles determined by your smart phone model, and Best4Video Smart Phone Converter will do the rest for you.

Best4Video Smart Phone Converter main characteristics:
Simple to use program: easy to install and convenient to work with. All kinds of movie and music conversions are executed effortlessly with a few mouse clicks.
Handy user interface: availability of various Smart phones conversion profiles::

Smart Phone 4 H.264 (1024x768)
Smart Phone H.264 (720x480)
Smart Phone MPEG4 (1024x768)

Support of all major file formats:

Video: FLV, AVI, VOB, MPG, MPEG, MPE, ASF, RM, WMV, OGM, MKV, MP4, SWF, TiVo, etc.
Audio: MP3, OGG, AC3, FLAC, WAV, WMA, M2A, AMR, etc.

Changeable output settings for attaining best results: you are able to select output format and quality in accordance with you own desires and personal preferences. The changes that you make are reflected in the picture preview giving the visual demonstration of how converted files will look on your smart phone.
Fast conversion: Best4Video Smart Phone Converter considerably saves your time and efforts, providing optimum possible conversion speed.
Ideal quality: all video and audio files are converted with the best quality your smart phone can playback.
Batch conversion mode offering the ability to convert large audio and video selections easily and quickly.
Best4Video Smart Phone Converter was created specifically to make video and music conversions for your Archos accessible, swift, convenient, and quickly done. No longer you have to hassle yourself with all the problems of incompatibility relating to the media files and your favorite device — by using Best4Video Smart Phone Converter you'll resolve those issues with just a couple of clicks and enjoy your favorite music and movies on your smart phone.